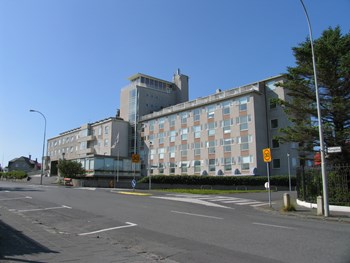 Memory Clinic
Department of Geriatrics
Landspitali University Hospital
Reykjavik Iceland
Address: Landakot; Tungata 26;101 Reykjavik; Iceland
Tel.: +354 543 9900
E-mail: 9900@landspitali.is
Headed by: Steinunn Thordardottir, Head of Psychogeriatric Unit and Gudlaug Gudmundsdottir, Head nurse
Background
The Memory Clinic in Reykjavik was founded in 1995 and is the bigger of two memory clinics in the country, the other being in Akureyri in the northern part. In the first two years the capacity was limited but it has gained momentum and currently, around 400 new patients are evaluated each year.
Clinical work
Staff. The main role of the Memory Clinic is clinical service in diagnosing causes of cognitive impairment and to give treatment and support to patients and families. Most referrals are coming from general practitioners. The team at the Memory Clinic includes geriatricians, nurses, social workers, psychologists (neuropsychologists and geriatric psychologists) and occupational therapists. The primary team consists of a geriatrician and a nurse but other professionals attend to the patients on the basis of internal referrals.

The first visit. The waiting time for the first visit is typically 2 to 4 months but there is a fast track for urgent cases. The first visit is 90 minutes. The patient attends with a next of kin and is interviewed by a doctor and a nurse who subsequently become their contact person. A thorough physical examination is carried out and short cognitive tests applied, primarily MMSE, CERAD 10 word test and the clock drawing test. Level of impairment is recorded on CDR. For next of kin, the IQCODE questionnaire is used by the nurse. Subsequently, a decision is made whether the case needs further investigation, which most often is the case and to what extent.

Diagnostic investigations available:
Biochemistry (in all patients)
Neuropsychological evaluation by an experienced neuropsychologist (in mild cognitive impairment (MCI) or mild dementia)
In all patients; Magnetic resonance imaging (MRI) or in some cases computerized tomography (CT) of the brain if MRI is contraindicated. Historic imaging is used if < 1 year old and performed according to our standards.
For in depth diagnosis: Cerebrospinal fluid (CSF) with beta-amyloid and tau analyse and sometimes other proteins.
For in depth diagnosis: FDG-PET for selected patients.
For special occasions:
Amyloid PET in selected cases.
EEG with statistical pattern recognition (SPR, a novel method that seems to be specific for Lewy body dementia).
SPECT is rarely used since PET became available but is sometimes used for differential diagnosis of frontal lobe dementia.
DaT scanning for differential diagnosis for extrapyramidal disorders.
Conventional EEG.
Cerebro-vascular investigations etc.
Second visit. This visit is scheduled after completing the diagnostic procedure. A diagnosis is declared and a therapeutic plan is made. If the diagnosis is Alzheimer´s disease (AD, a treatment with a cholinesterase blocker is initiated, if there is no contraindication. The same applies in the case of Lewy body dementia. In other degenerative brain disorder there is no specific medical treatment but if the diagnosis is vascular dementia, the patients' atherogenic risk factors are evaluated and appropriate therapy is initiated.
Follow up. Follow up at the clinic is primarily for younger patients and for more complicated cases. Others are referred back to their GP after treatment with cholinesterase inhibitors has been initiated if indicated and has been stabilised. The dementia coordinator at the primary health clinic (if available) is informed. Between visits, the responsible nurse is taking care of communication with the patient and family.
Database
A national database for dementia was established in Q4 2020. It is currently in a testing phase at the Memory Clinic, delayed by the Covid-19 pandemic. Following a testing phase during 2021 at the Memory Clinic the plan is to expand the database to primary care and hopefully later to nursing homes creating a real national database.
The Directorate for Health is legally responsible for the database but the development, establishment and for day to day running, the Memory Clinic has accepted to take responsibility.
Research
Even though the primary role of the Memory Clinic is clinical work, research has increasingly been a part of the work the beginning of this century.
Collaborators - local

DeCode Genetics, Reykjavik since 1998
Mentis Cura, RDC, Reykjavik since 2004 (the company now moving to Oslo)
Department of Opthalmology since 2012
Medical faculty, division of neuro-biochemistry since 2014
Collaborators- international
Nordic Network in Dementia Diagnostics since 2009
European Dementia of Lewy body consortium since 2015
Clinical trials
A study on different novel methods; the MTHDLGY study was a one site study sponsored by Novartis. No intervention, started in spring 2020, ended in spring 2021.
Clinical trial of kanacinumab, sponsor Novartis (The Explain-AD study). A platform study with new drugs added at a later stage. A multicenter study starting in Nov 2021.
Clinical trial of tramiprazol, sponsor Alzheon (The Alz-801 study). A multicenter study starting in Dec 2021.


Currently, these projects are ongoing:
1. Genetics of Alzheimer´s disease. Initiated in 1998 in collaboration with DeCode Genetics in Reykjavik. Major publications in Nature (first protective gene in Alzheimer´s disease, sometimes referred to as the Icelandic mutation)1 and in New England Journal of Medicine on the TREM 2 gene2. The project is still ongoing and analyses of other genetic markers have been published.
2. EEG project, in collaboration with the RDC Mentis Cura in Reykjavik using a novel technique of statistical pattern recognition = SPR 3, 4. Initiated in 2004 and still ongoing, currently focusing on MCI and Lewy body dementia.
3. Nordic studies 1 & 2 (NORD-EEG and NORD-MCI), multicenter studies in six sites in four Nordic countries validating the EEG as a diagnostic marker for diagnosis of causes of cognitive impairment 5,6 (the first study). The second study was finished in mid 2021,, validating EEG as a prognostic marker in MCI. Part one of the second study has been published, evaluating the EEG as an indicator for later conversion to dementia of ca 100 individuals with MCI, a five year follow up.7 There are plans to enter a follow up of five years of the second cohort.
4. Prospective MCI study. Conducted in 2014 -2020 with the participation of 213 patients. The main objectives is to validate various novel diagnostic methods (SPR-EEG, biomarkers in CSF8, oxygen saturation in retina9 etc.). The study involves two PhD projects.
5. A second MCI study was initiated in early 2020, organized in the same fashion as the first one but with more emphasis on CSF analysis, PET and biomarker collection. The pandemic has interrupted the study and was on a slow burner during the pandemic.
6. Families of AD patients. A qualitative, longitudinal PhD study on families of AD patients with focus on quality of life and service, especially of the effect of special day care centers for individuals with dementia. Started in 2017, ongoing to 2021.
7. The European Dementia of Lewy body study. The Memory Clinic is one of more than 40 sites in Europe. Participation in the retrospective part has been concluded10 and a prospective project is ongoing. A sub-network of sites in the Nordic countries is being administered from this Memory Clinic.
References
1. Jonsson et al Nature 2012;488:96-99
2. Jonsson et al New England Journal of Medicine 2013;368:107-116
3. Snaedal et al. Dementia and Geriatric Cognitive Disorders (DGCD) 2012;34-51
4. Johannsson et al DGCD 2015;39:132-143
5. Engedal et al. DGCD 2015;40: 1-12
6. Ferreira et al. DGCD 2016;42: 80-92
7. Engedal et al. Dementia and Geriatic Cognitive Disorders 2020; 49(1): 38-47
8. Teitsdottir et al. Alzheimer´s Research & Therapy 2020;12:92-106.
9. Olafsdottir et al. Alzheimer's & Dementia: Diagnosis, Assessment & Disease Monitoring 2018;10:340–345
10. Oppedal et al. Alzheimer´s & Dementia 2019; 15: 400-409